EQ Birthday Party Raffle Promo
USEFUL LINKS (UPDATED):
___________________________________________________________________________________
April 5, 2009
EQ Dry is Yzzy's nappies. We had to change her from Huggies 'coz it costs much more than EQ diapers. Diapers just get thrown out after a few hours… and hey, we need to be economical these days. What's important is that I'm making it a point to change her nappies every 3 hours so she wouldn't be getting irritations.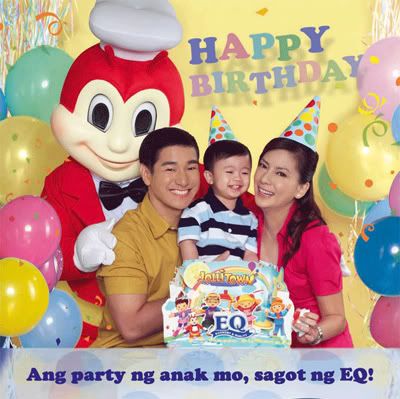 I just realized last night that the EQ Birthday Party Raffle Promo is going to have the most awaited Grand Draw on April 24, 2009. Good thing we were able to keep the promo requirements list!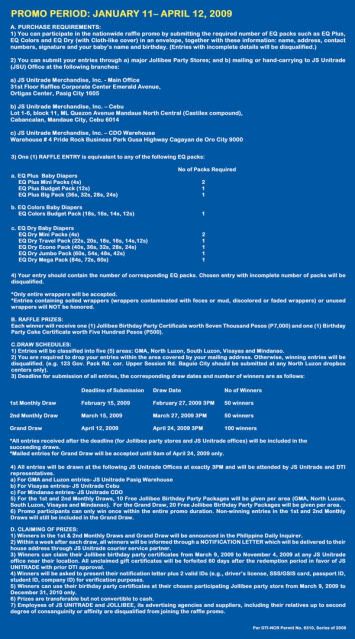 After having a fun party time at Grand City Hotel Restaurant for Baby Ariz Rodano's Christening and Ate Audrey Rodano's 3rd birthday, we had to drop by Jollibee Divisoria to submit our 12 entries. We didn't want to miss this, 'coz I bet not all EQ Diaper users joined this contest! In fact, a lot from CDO won the Mindanao Raffle. Yzzy is hoping she could get the chance to win…its absolutely a great treat for her 1st birthday! A HUNDRED (100) WINNERS will win a Jollibee Birthday Party Certificate worth P7,000 and one (1) Birthday Party Cake Certificate worth P500!

I'll update you on this when the big day comes! Yzzy could probably be one of those very lucky winners. ^^